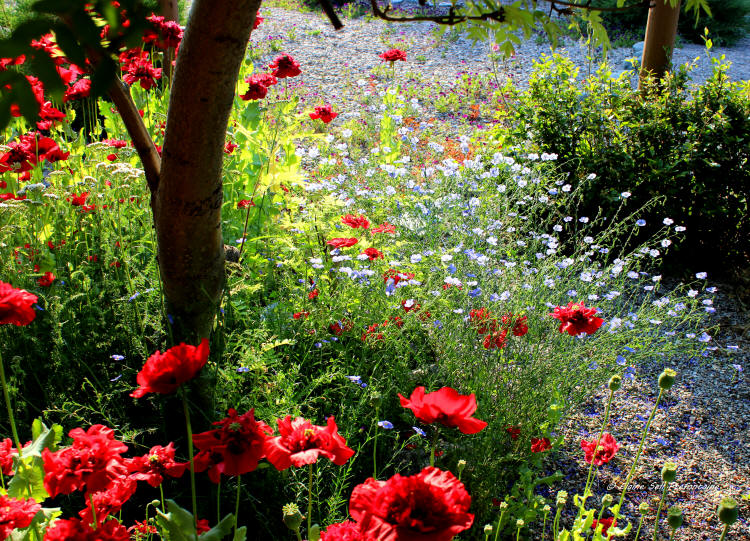 POPPIES AND FLAX IN MY FRONT YARD
July 2013
July 2013
July 2013
July 2013
July 2013
July 2013
July 2013
July 2013
WHITE TIGER LILIES IN MY YARD
July 2013
July 2013
July 2013
July 2013
July 2013
LITTLE BLUE FLAX FLOWER FACES FOLLOW THE SUN
July 2012

POPPIES AND FLAX - SO PRETTY TOGETHER
July 2012

POPPIES IN THE SUN
There are so many beautiful things in life that I am grateful for
... and I only have to open my eyes and look around to see it.
Like how the sun shines through these poppy petals.
July 2012
GLORIOUS POPPIES IN MY YARD
July 2012


July 2012

VIOLAS AT MY CABIN
July 5, 2010

_____________________________________

Digital Photography by Elaine Sell Prefontaine
_____________________________________

PRETTY IN PINK
Oriental Poppy
July 3, 2007
A BLUE DRAGON FLY AND YELLOW POTENTELLAS
June 30, 2007

'POPPIES IN THE DRIVEWAY'
Huge clusters of brilliant and delicate poppy blossoms against a backdrop
of gravel and Kootenay-green stone present a study in contrasts of texture
and color. These showy beauties in the driveway present a beautiful,
but fleeting, welcome to my yard.

HAREBELLS - 'THE BELLES ARE SINGING'
(Campanula carpatica)
These lovely "Wedgewood Blue" harebells display beautiful
masses of almost transparent blue-violet flowers.

TRANSPARENT BEAUTY
Birthday Gift Lilies
2005
'ROCKY MOUNTAIN LILY'
(Lilium philadelphicum)
I spotted these rare Wild Lily beauties on the mountainside beside
the Deer Creek Road, and excitedly climbed up the
45 degree ridge to photograph them.
Rocky Mountains, Purcell Range, BC, Canada
'GREETING THE SUN'
Tame Lilies - Bold and beautiful, these stunning hybrid lilies open their petals to early morning sun.


'COLUMBINE SLIPPERS 'WAITING FOR THE DANCE'
These delicate un-opened Columbine blossoms remind me of ballet slippers.
July 2002

'BRILLIANT BLOSSOMS'
Flowering Crab Apple Tree
Each branch was solidly laden with brilliant blossoms. A joy to behold!
June 2002


'WHEN IRIS EYES ARE SMILING'
June 2002
..
Inspired by the blossoming beauty of the flowers of spring I have opened this
'Digital Blossoms' page.
To celebrate "Cherry Pink and Apple Blossom Time" in the Columbia Valley", I initially opened with the following two aptly named digital photos:
"Cherry Pink" and "Apple Blossom Time"
Elaine
'CHERRY PINK'
June 2002

'APPLE BLOSSOM TIME IN THE VALLEY"
June 2002



_____________________________________

Digital Photography by Elaine Sell Prefontaine
_____________________________________

'
DIGITAL BLOSSOMS'


The photos on this page, with the exception of the Rocky Mountain Lily photo, and my Birthday Flowers were taken in my yard near
Columbia Lake, British Columbia, Canada
Elaine


_______________________________________

Digital Photography by Elaine Sell Prefontaine
______________________________________
SLATE STONE ART


The Home of Modern Day


Petroglyphs & Pictographs

Art, Poetry & Photography © Copyright Elaine Sell Prefontaine
Website Created & Maintained by Elaine Sell Prefontaine

"Art purely created, and nakedly witnessed, frees the soul"
Elaine